The softest wool has been grown, spun & hand dyed in Australia to create fine wool 'DAISIES'.
'DAISIES' are half the thickness/weight of our crewel wool 'BLOSSOMS'.
200 subtle shades are available in 25m skeins and are perfect for the finest embroidery!
There are 40 colour families, with 5 shades in each - ranging from lightest to darkest.
'DAISIES' shades are also available in 'STARS', 'POPPIES', 'BUDS' and ''BLOSSOMS'.
Click here to view 'DAISIES' shade chart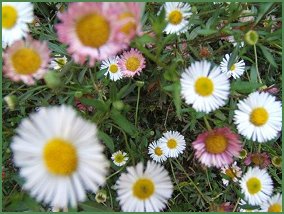 © Gumnut Yarns
Website by Anderson Web Design